Go To Baron's Men Site
You may buy tickets at the theater too.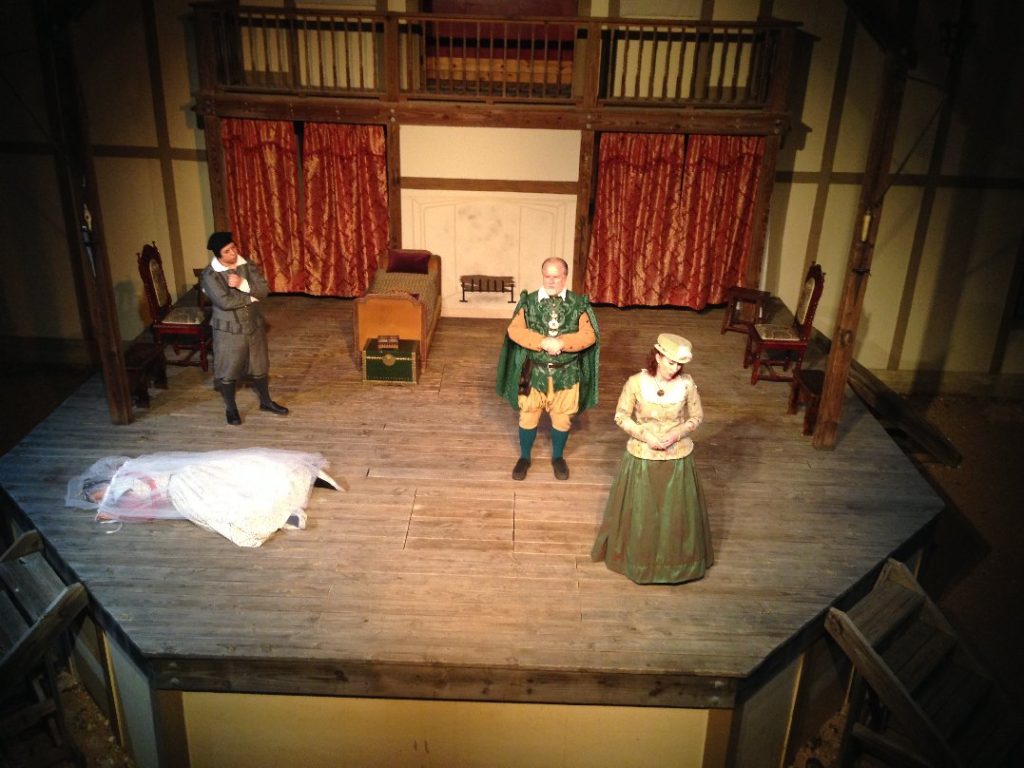 Scene from "Dead of Winter" (October 13, 2017)
Featuring our friend Scottie Jones (center stage)
The Baron's Men Will Perform
"Henry IV Part I by William Shakespeare"
The Play Wikipedia Article – Baron's Men on Facebook
Weekend 1 – October 5-6, 2018
Weekend 2 – October 12-13, 2018
Weekend 3 – October 18-20, 2018
Weekend 3 – October 25-27, 2018
You are encouraged to attend the play
on
October 12, 2018 at 8-10:30 PM CDT
after the King's Dinner 2018

Excerpt from The Baron's Men Announcement:
Come one, come all and gather 'round the Boar's Head Tavern in East Cheap for Master Shakespeare's classic coming of age tale for our own Prince Hal- Henry IV, Part I. That kinda fun play you read your Senior year, but now with 100% more bawdy jokes, and the raucous humors you always wanted and suspected it to have — lakeside on a thrust stage under torchlight.
Including interludes of the rotund knight himself, Sir John Falstaff; interspersed with historic bits, courtly intrigue, and that guy they based Black Fish Tully on in Game of Thrones. To further pique your interest: thievery of a most unsavory character, a musical number in Welsh, a rebellion against the crown so big it includes Welsh and the Scots, dick jokes aplenty, and the battle of Shrewsbury where our Young Prince Hal finally takes on the mantle of a warlike Harry that could assume the port of Mars. Oh, and prostitutes.
Ticket box at 7:00 PM
Theater open at 7:30 PM
Play at 8:00 PM
At
Richard Garriott de Cayeux's Curtain Theater
7400 Coldwater Canyon Dr
Austin, TX 78730
Tour of The Curtain Theatre, by Winfield of PaxLair
Go To Baron's Men Site
You may buy tickets at the theater too.